Submitted by

gadams

on Tue, 09/26/2017 - 2:42pm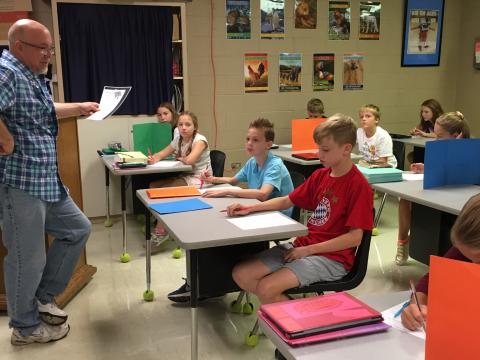 Each week, we will highlight one particular grade level, just to share the awesome things that God is doing in our classrooms.
 
Two weeks ago, it was a very exciting in sixth grade as each student received his/her own individual Chromebook.  For the past two years, St. Matthew has implemented a "One to One" device program starting in the sixth grade.  St. Matthew shares the cost with parents for a Chromebook, and at the end of 8th grade, each student will get to keep his/her device. Students are responsible for bringing their individual Chromebooks to school every day fully charged and ready for classroom instruction.
 
Our middle school language arts program is designed as a Google classroom where their Chromebooks will allow them to learn how to effectively utilize and incorporate technology to be innovative 21st century learners.  Eventually, a Google classroom becomes paperless as students learn to manage their assignments utilizing the Cloud and working collaboratively with each other and their teacher.
In mathematics, sixth graders are also introduced to the "flipped classroom" concept, where Mr. Olsen makes videos of himself teaching individual math lessons.  Students are assigned to watch the videos the night before class.  Having this previous knowledge, students are able to demonstrate in front of Mr. Olsen the next day what they have learned or ask clarifying questions.  The videos also help if a student needs a little refresher later on for the necessary mathematical steps involved to solve more complex problems.
 
In religion, our sixth graders will go through the entire age- appropriate Bible entitled "The Story" and see God's faithfulness throughout history.  Our sixth graders are looking forward to putting their faith in action this month as they travel to Gleaners Food Bank and prepare backpack meals for those in need.  Next month, they will assist our 7th and 8th graders with loading donated goods for Lutheran World Relief into train cars at a Detroit distribution center.
 
One last highlight of sixth grade is the anticipation of each student's individual nickname that Mr. Olsen personally creates just for them.  Rumor has it that we already have an "Ironman" in the class.  It will be fun to hear who else will comprise this year's class list.
In the words of the sixth grade, "sixth grade is awesome, and we are loving this year with our teachers and class."