Submitted by

gadams

on Tue, 09/26/2017 - 3:11pm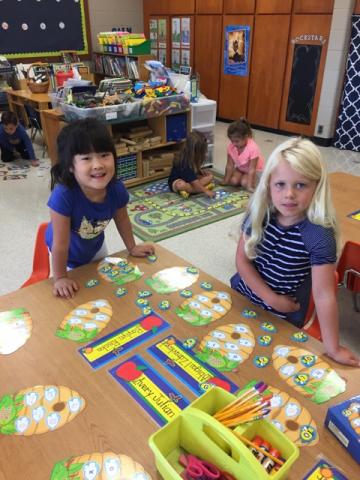 A famous quote by Robert Fulghum states, "All I really need to know I learned in Kindergarten."  When you spend a little time in our Kindergarten classroom, you  quickly realize that there is a lot of wisdom in this quote because there are so many valuable lessons that are occurring at this age!
 
The key to success for any type of building and/or structure is to have a solid foundation, and that is what is exactly what is taking place during our early literacy and math stages of Kindergarten.  With one month under their belts, our Kindergarteners are currently learning and reviewing letter/sound recognition.  Utilizing the Lucy Calkin's Reading and Writing workshop, our Kindergarteners spend time in whole group instruction as well as "mini-lessons" and conferences that focus on individual needs. 

Their current math lessons are focusing on comparing numbers, while in science, they are learning about senses.  Most students enjoyed the science lessons when taste was involved and they were able to sample various types of foods to determine if they were sweet, sour, or salty.
 
However, what is really exciting in Kindergarten is Mrs. Meier's instruction during religion class, especially when the students learn how to "Pray in Color".  In fact, this is such a wonderful Early Childhood experience that Mrs. Meier has been asked to present her "Praying in Color" techniques at several Lutheran Educator's conferences.  "Praying in Color" encourages young children to draw pictures or write words to help them visualize their prayer requests as they speak to their Heavenly Father.  As a result, our little disciples are able to focus on their prayers and keep a wonderful journal of their requests and answered prayers.
 
In the words of our Kindergarteners, "Kindergarten is the best!"