Submitted by

gadams

on Thu, 05/04/2017 - 3:49pm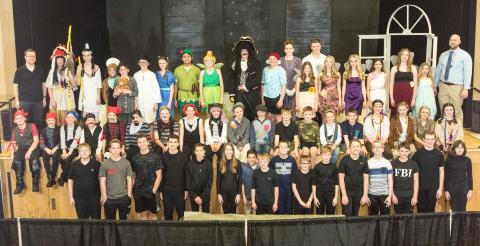 "Let heaven and earth praise Him, the seas and all that move in them!"  Psalm 69:34
Do your children have a certain movie that they enjoy so much that they will tend to watch it over and over and over again?  When my oldest son was a young boy, he was obsessed with Peter Pan, and when given the opportunity to select a movie, that was ALWAYS his choice. 
It just so happened that my sister and her family visited during the Peter Pan extravaganza, and after a few days, my brother-in-law requested if he could borrow our car.  When he returned, he handed Joshua a bag filled with numerous other children's movies, and with a smile said, "Josh, every boy needs to learn that he will one day need to leave Neverland.  Maybe you could start a little early and take a little break from Peter Pan while we're here?"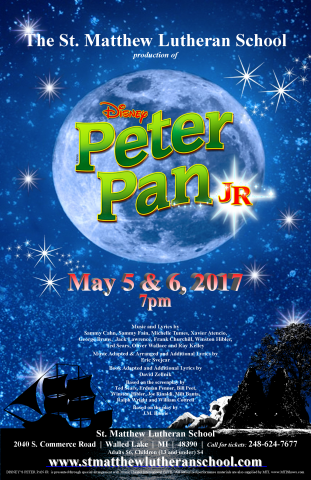 Perhaps you are all grown up, but this Friday and Saturday, you will have the opportunity to return to Neverland and reunite with Peter Pan and the lost boys as St. Matthew Lutheran School proudly presents Peter Pan Jr.
Tickets are still available for both nights.  You can purchase tickets throughout the rest of this week in the school office or at the door before each performance
While you are at the show, plan on stopping by "The Pixie Dust Cafe" for a simple dinner and snack options.  The cafe will be open at 6:00 p.m. to accommodate cast and crew members and the menu options include:  Peter Pan pizza, Wendy's famous chocolate chip cookies, Tinkerbell's sugar cookies covered in pixie dust, Captain Hook's sunken treasure bars, Tiger Lily's hot large pretzels (warm cheese also available), Lost Boy nachos, Pirate popcorn, Pixie sticks, and the famous Mrs. Delnick crocodile cupcakes!
Each night, 40 pieces of various forms of sunken treasure will be hidden in a variety of items, so come and test out your pirate skills and see if you can locate a precious object!
As we celebrate the Fine Arts this weekend, you will also have an opportunity to view our student art work that will be displayed in our Art Show.  Mrs. Nancy Flake has put a tremendous amount of effort into transforming our gym into a beautiful art museum so please come and view your children's master pieces!  Also, our Scholastic Book Fair will also be open for business before and after each show so please stop by and look at all the amazing literary selections that are available for purchase.
So think of a few happy thoughts and take the second star to the right.   We will look forward to seeing you in Neverland and glorifying Jesus with this production.
In His love,
Mrs. Palka