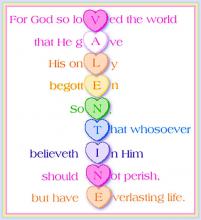 "For God so loved the world, that He gave His only begotten Son, that whoever believes in Him shall not perish but have eternal life."   John 3:16
I have one of the greatest jobs ever! Where else can you work and receive so much unconditional love and entertainment all in one day? I honestly should write a book containing all of the humorous and endearing comments that are shared with me on a daily basis. If I would ever take time to collect these precious statements, the following conversation, which occurred approximately seven years ago, would definitely be included in my collection of favorites:
 
Young Male Kindergarten Student: "I like your sweater vest, Mrs. Palka.
 
Mrs. Palka: "Oh, thank you!"
 
Young Male Kindergarten Student: "You're welcome. My grandpa has one just like it!"
 
I absolutely treasure how young children can be so uninhibited and freely express their hearts and their thoughts. A few days later, that same child told me, "Mrs. Palka... if you were a big Oreo cookie, I would just gobble you up!"