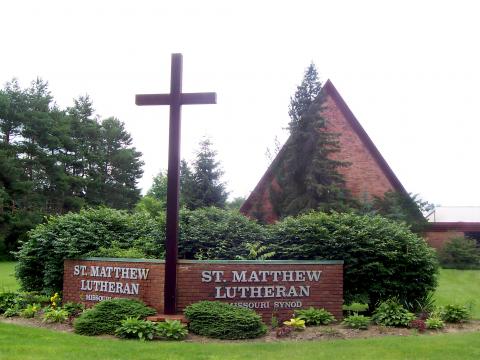 St. Matthew Lutheran School is a ministry of St. Matthew Lutheran Church, and is open to anyone in the community.  Our church has become a regional church, made up of people from many backgrounds and cultures, mostly within a ten-mile radius from our campuses - people who love to worship and grow in relationships with God and each other, and to grow to be more like Christ.
The church was founded in Walled Lake, Michigan, in 1945 as a mission congregation.  After spending our first few years in historic Stonecrest, and then constructing a new building at 418 E. Nicolet Street, we built our current Walled Lake building at 2040 South Commerce Road in 1958.  We added the school to our ministry in 1957, and have grown in size and number of ministries over the years, adding a Prayer and Praise worship style to our original Traditional style, an International Friends Ministry, and expanding our children's and student programs.  In 2001, we also added a second campus in nearby Wixom, Michigan, at 48380 Pontiac Trail, where we enjoy another contemporary worship style called New Vintage, and serve the local community's need for childcare with our Hearts & Hands Child Development Center.
Life at St. Matthew Lutheran Church is really about drawing nearer to God, who loves us, and the people He loves, both within the church and in our surrounding ministry area.  We are passionate about worship, about growing up in Him, about children, and about sharing His love with one another and our community.  While we are a large church (about 700 people worshipping in various worship styles and times) that offers a wide variety of Bible studies, serving opportunities, activities, worship styles, and locations, we love to grow closer together in love, prayer, study, friendship, and caring for one another in various kinds of small groups.