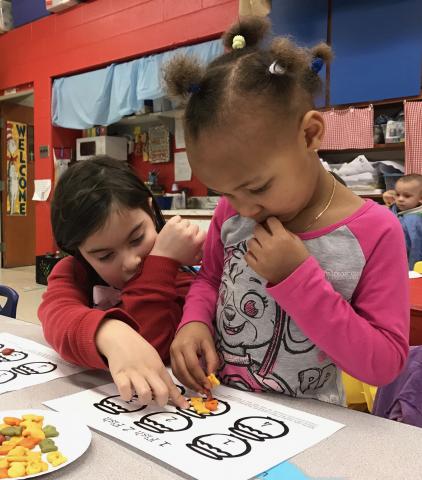 Welcome to Our Mixed Flock of Lambs (Preschool 3 Year Olds) and Sheep (Preschool 4 Year Olds)!
After attending a conference regarding the benefits of multi-aged Preschool programs, St. Matthew Lutheran School made a decision to pilot a "multi-aged" Preschool program for the 2016/2017 school year. Throughout this school year, our Preschool teacher, Mrs. Lisa Rohman, has witnessed many benefits of a multiage Preschool class and the new learning opportunities this current structure presents for three and four year old students. As a result, we have decided to implement this program again for the 2017/2018 school year.
In this structure, our "Lambs" (Preschool 3 year Olds) and our "Sheep" (Preschool 4 Year Olds) have their own individual academic teaching time with Mrs. Rohman. During this time, Mrs. Rohman will focus on each age level's individual reading, writing, and mathematical readiness skills utilizing our Zoo Phonics and Handwriting Without Tears curriculum. However, during the remainder of the day, we have found that a multi-aged classroom provides numerous opportunities for older students to mentor younger students and assist in their learning while reinforcing confidence and leadership in the older student.
Currently, our mixed flock option has the potential to accommodate ten three year olds and ten four year olds; we would be thrilled to have your child come and join the flock!

Mixed Flock Program (Lambs 3 yr old & Sheep 4 yr old)
Option 1:  8:20 a.m. - 11:20 a.m. Tuesdays and Thursdays
Option 2:  8:20 a.m. - 1:20 p.m. Tuesdays and Thursdays
Sheep Program (4 year old)
Option 1:  8:20 a.m. - 1:20 p.m. (3 days: Monday, Wednesday, Friday)
Option 2:  8:20 a.m. - 3:20 p.m. (3 days: Monday, Wednesday, Friday)
Option 3:  8:20 a.m. - 3:20 p.m. (5 days: Monday, Tuesday, Wednesday, Thursday, Friday)
Please note that Tuesdays & Thursdays are Mixed Flock