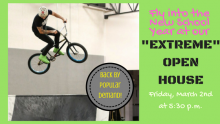 Tomorrow is the day that we all have been waiting for as we celebrate our All School Open House from 5:30 - 8:00 p.m.!
 
All currently enrolled students, as well as all perspective students, are invited to attend this "EXTREME" Open House, where attendees will have the opportunity to visit their next year teacher and classroom, as well as eat a light dinner.  The evening will conclude with a BMX bike stunt show, performed by Solution Action Sports.
 
The schedule for the night is as follows:
 
5:30 - 8:00  Open House - Please come at any time that works best for your family
Classrooms will be open, so please stop in and visit next year's teachers and learn about the exciting opportunities that are waiting for your child in 2018/2019
Inquiring families will have blue name tags so please say hello and introduce yourselves to our visitors
A light dinner of grilled hot dogs and brats will be served in the cafeteria from 5:30 - 7:00 p.m.
Devotions will be held in the church at 7:00 p.m.  Everyone is encouraged to attend.
Solution Action Sports will perform their BMX bike show in the gym at 7:15 p.m.
The class that has the highest attendance at this event will win a pool party at Mrs. Palka's once the pool thaws and the weather warms up!
God has great plans for your child, and we look forward to partnering with you and helping your child "soar" to his/her God-given potential as a student and young disciple.
 
We hope to see you there!