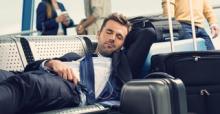 "Be on guard! Be alert! You do not know when that time will come for Jesus' return."   Mark 13:33
Have you ever experienced a time where you fell fast asleep in a very unusual location?
A few weeks ago, I had the opportunity to go to NYC and visit my daughter over Winter Break. One thing is for sure, when you travel to New York, you walk... A LOT! For three days, as we toured the sights of NYC, I blew up my Fitbit steps count and totally took the lead with all of my Fitbit friends!
However, the weather conditions severely changed on the last day of my visit, which put a little damper on my steps and our plans. As the weather conditions worsened, I even decided that I should probably head to the airport a little sooner than I had planned, before the road conditions had the potential for making me late for my flight.
 
When I arrived at the airport, it seemed like many others had the same idea, and, as a result, the waiting area at the gate was packed with people waiting for the current scheduled flight as well as the next flight to Detroit. I found the very last seat next to a man who was fast asleep with his head propped up on his hand and his legs resting on his suitcase. Wearing a Detroit Red Wing jersey, I assumed that he was on my flight and was probably exhausted from the same NYC pace that I just experienced.
 
As the gate attendant boarded the current flight to Pittsburgh utilizing the booming American Airline intercom system, I was in awe how the gentleman next to me slept through the entire boarding and departure of that flight. Numerous times I got up to get something to drink or walk around, only to return and find that same man still sleeping in the same position. Finally, the time came where the gate attendant was preparing to board our flight to Detroit... and again... the same man was still sleeping!
 
For this particular flight, I had purchased an extremely inexpensive ticket, which put me in Zone 9. I was literally the very last person in line to board the plane, with the exception of my friend "Sleeping Beauty", who was still asleep in his chair!
As I gave the gate agent my boarding pass, I said to her, "You know, that guy has been sleeping in that same position for the past few hours. You might want to wake him up and see if he's supposed to be on this flight." As I was buckling my seat belt and getting myself situated in my chair, I gazed up and guess who I saw walking down the aisle of the airplane looking for his seat? Mr. Red Wings jersey himself... and looking very well rested! As he walked by me, I silently thought in my head, "You're welcome!"
 
How crazy that would have been to be ready and prepared for the journey, even at the airport, and yet miss the plane to your desired destination?
 
Sometimes this happens in our spiritual journey as well. Sometimes, we plan and prepare by reading our devotions and Bibles, but when frightening situations occur, we miss boarding the "plane" of God's peace and jump on the sinking ship of worry or fear instead. Sometimes, we plan and prepare, but we become so busy or distracted that we miss opportunities that cross our paths to share our faith or point someone to Jesus. And sometimes, we see uncomfortable situations and rather than get involved, we hope someone else will take care of it instead. Scripture warns us to "be alert" and watch for opportunities to share the love of Jesus because time is urgent.
This Lenten season, may the Lord "Give Us His Eyes" to be attentive and see opportunities where we can share the beautiful story of the cross and Jesus' amazing love for us.
 
In His love,
Mrs. Palka