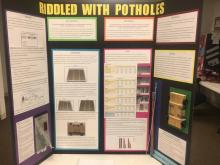 "Every good and perfect gift is from above, coming down from the Father of the Heavenly lights."   James 1:19
The other day, I overheard the comment, "Who needs Cedar Point when we have the thrill of dodging and driving over Michigan potholes?"   Sad thing... there is so much truth in this statement!
With the frequent seasonal freeze-thaw cycles we have experienced this winter, dodging potholes has become Michigan's newest sport!
Inspired by numerous bumpy adventures in the car, eighth grader, Anthony Quittschreiber put his frustration into forward thinking and utilized his 8th grade Science Fair project as an avenue for creative and scientific problem solving!
Utilizing numerous scientific properties involving physics, Anthony developed alternative strategies to melt ice on roads. During the St. Matthew Science Fair, Anthony earned the distinguished honor of being awarded "First Place".
Encouraged by a family friend, Anthony decided to enter his project into the Detroit Science Fair, which is held at Cobo Hall. Last week, Anthony learned that he won the overall "Grand Award" in the Jr. Division for Physics! Anthony also won the Ricoh Sustainable Development Award, which recognized his efforts in addressing issues of environmental responsibility and sustainable development. In addition, Anthony received a nomination to compete in the 2018 Broadcom MASTERS, a program of Society for Science & the Public in Washington D.C
We are so incredibly proud of Anthony! Who knows, maybe one day, the famous Michigan pothole will become extinct thanks to Anthony's efforts!