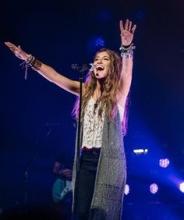 "Every good and perfect gift is from above, coming down from the Father of the heavenly lights, who does not change like shifting shadows." James 1:17
The birthday card that came from my husband this summer read "pick a concert of your choice" and I gladly took him up on this offer. My love and appreciation for live music began in the 8th grade when my best friend's mom took my friend and me to see Elton John at the Pontiac Silverdome! (How's that for dating myself?) Ever since then, my concert attendance for various musical genres has grown abundantly!
Immediately, I began to search the internet to view all of my options. However, in my quest, I was absolutely thrilled to learn that Lauren Daigle, the current winner of the Dove "Best New Christian Artist" Award, was coming soon to Toledo, Ohio. As I searched for available tickets, I was disappointed to learn that the concert was already sold out, so I immediately checked out my options on Stub Hub. During my initial search, I just couldn't justify paying the inflated ticket prices that averaged triple the original ticket price. However, in my determination to attend that concert, I continued to stalk the Stub Hub site on a daily basis. Finally, very late one evening, my persistence paid off when two main floor tickets at the original cost appeared for sale. With lightening speed, my finger clicked the purchase button and my joyful and victorious squeal woke Ken out of a sound sleep.
The day of the concert, both Ken and I had a few activities that prevented us from leaving on time so we arrived during the warm up band. Not wanting to be rude or disrupt those sitting around us, we told the usher that we would wait for a break before we climbed through the row to locate our seats. However, the usher noticed that people were already sitting in our seats and this seemed to really upset him. Fighting for our justice, the usher worked his way through the row and demanded that the alleged seat stealers show proof of their tickets.... And to everyone's amazement, they did!
There each of us stood with tickets for Row CC seats 110 and 112!
The usher then escorted my husband and me to the Box Office where we were introduced to the kindest theater manager. When she learned that we had purchased our tickets through Stub Hub, she explained that the seller must be fraudulent. She was insistent that we report this matter immediately to Stub Hub because they have a stellar reputation for customer protection. She then proceeded to tell us that the concert was sold out, but she did have two premium box seats next to the stage that she was willing to give to us for free because she felt so bad about the situation. At that point, I looked at Ken and said, "This newsletter is basically writing itself!"
So there we sat at a sold out concert, in premium seats that we didn't pay for nor did we deserve, experiencing the most amazing evening of praising God with Lauren Daigle!
Isn't that so characteristic of our God to bless us beyond our wildest comprehension?
This year, our school theme is "Dream Small and Watch God Work in Big Ways". Throughout this school year, we will be encouraging our students to find small ways through which God can use them to further His kingdom, AND to look for and acknowledge God's tremendous hand of blessing in the process.
We look forward to having sweet and "Small Dreams" with all of you this school year!
 
In Jesus' love,
Mrs. Palka