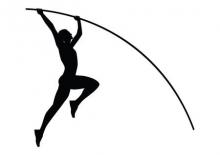 St. Matthew Lutheran School Implementing NWEA Standardized Testing
"Whatever you do, work at it will all of your heart as working for the Lord and not for men." Colossians 3:23
At the beginning of his freshman track season, my son's coach introduced him to the concept of pole vaulting. After learning the proper form and footing, he immediately had success with his first pole. However, my son soon learned that pole-vaulters can max out their success with a pole. Once they reach a certain height, a pole-vaulter will plateau, and the only way he/she can continue to soar to higher heights is by using a new and taller pole. It's not that the old pole was bad, it's just that the pole-vaulter's skill set has grown beyond the capability that the old pole could offer.
In a similar fashion, our school is changing to a new form of standardized testing designed by the Northwest Evaluation Association, or NWEA. Previously, our school has utilized the IOWA Basic Skills Assessment, and it served us well for a long period of time. But for our school to go to the next level of assessment, we believe that the NWEA's online assessment, known as MAP, will be a new tool that will allow us to gather student data in a more efficient and timely manner. In addition, this assessment has the capability to test numerous times throughout the school year, thus allowing us to determine growth patterns from the start of the school year until its completion.
During the next few weeks, students in grades 2 - 8 will take practice assessments that will give us a baseline regarding current student achievement. In the spring, students will take additional assessments to help us determine student growth. Parents will receive formal student achievement reports this spring as well. Numerous principals who have already made this transition have warned me that initial scores will not be as high as previous IOWA scores due to the learning curve of this new format.
Please remember that MAP is only one of numerous forms of assessment that our school utilizes to determine student academic growth.
We are constantly looking for ways to improve St. Matthew Lutheran School because this is ultimately God's school, and we want to always give Him and our families our best efforts!
 
In His love,
Mrs. Palka