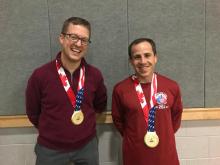 Dream Small And Run With A Big Vision Update
Nearly 30,000 runners hit the streets of downtown Detroit last Sunday to run in numerous races, including the 2018 Detroit Free Press Chemical Bank Marathon. Among these enthusiastic and courageous participants were two amazing St. Matthew staff members!
For Mr. Thomas Czinder, this was the pinnacle moment of his endeavor to raise money for World Vision's mission to provide clean water to children in third world countries. With much joy we want to share with you how God blessed Mr. Czinder's efforts in remarkable ways! By the conclusion of his run, Mr. Czinder raised over $7,625, allowing 153 children and their families access to clean water!
As our second staff member and PE teacher, Mr. Camilleri, laced up his shoes on that cold and windy morning, he felt trained and prepared for the grueling course that awaited him. This is an exciting marathon that allows runners to travel through the streets of Detroit, across the Ambassador Bridge, back through the Windsor Tunnel, and around Belle Isle. Throughout his life, Mr. Camilleri has excelled at running long distances and he enjoys participating in these types of events. However, God truly blessed all of his training on Sunday, and as a result, Mr. Camilleri finished in 6th Place with a pace of 5:57 minute per mile throughout the 26.2 mile marathon!
Congratulations Mr. Czinder and Mr. Camilleri for your perseverance and the accomplishments with which God blessed you!
In His love,
Mrs. Palka and the Staff and Students of St. Matthew