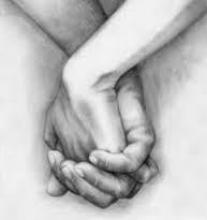 "Be strong and courageous. Do not be afraid, Do not be terrified. For the Lord, your God, will be with you wherever you go. He will never leave you or forsake you." Deuteronomy 31:6
As soon as I answered the phone last Wednesday night, I could tell by my husband's voice that something was wrong. "Hey, I have some bad news... the nursing home just called, and they are sending your mom by ambulance to the hospital. I'll meet you at home, and we can drive together to Ann Arbor."
Six years ago, my mom suffered a massive stroke, which left her almost totally paralyzed. Over the years, her confusion has also escalated as dementia continues to rob her of her memory.
Being removed from her familiar nursing home environment that night to ride in the back of an ambulance, not to mention suffering from the side effects of a powerful infection, can be extremely traumatizing for anyone, especially an 87 year old. As she drifted in and out of consciousness in the ER, we would notice that her good hand would start to shake when she was awake. However, whenever that would start to happen, my sweet husband would grab her hand and the shaking would immediately stop. The reassurance of a strong hand was all that was needed to communicate with her that she was loved and not alone.
As we begin this New Year, let's remember that our Heavenly Father wants us to experience 2019 by holding onto His hand each day. Each step of the way, He wants us to cling to Him and walk at His pace. He doesn't want us to try and get ahead of Him or lag behind what He has planned for us. He is there as a source of wisdom, comfort, and strength through each daily event, and He has us constantly in His sight.
What joy it is to know that we are never alone!
 
Wishing you a very Happy New Year in Him!
Mrs. Palka