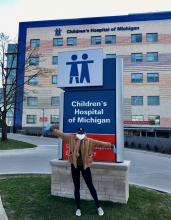 "Every good and perfect gift is from above, coming down from the Father of the heavenly lights."  James 1:17
So what has been your largest adjustment living in isolation? Perhaps it's the inability to hang out with friends? Maybe it's the restrictions of leaving your home? Possibly you are feeling like you have cooked dinner 395 times since March 13th?
After living in New York for the past six years, our 24-year old daughter is currently home to escape living in her apartment, which is located the epicenter of this pandemic. As a result, she is now facing MANY adjustments. As much as I would like to think that I'm a barrel of laughs to be with 24/7, her rather busy and hectic life has come to a screeching halt now that she is unemployed and temporarily residing in Walled Lake. So she started thinking and praying for how God could use her during this season of her life, and something really fun has evolved. One of her numerous jobs is that she is a certified yoga instructor, so she started teaching classes online and designating all donations to purchase meals for exhausted medical staffs at various Detroit hospitals.
Last Saturday, as I was helping her deliver dinner to the Emergency Room Department at Detroit Receiving Hospital, we had a little fun taking a side trip down memory lane to Children's Hospital, which is right next door to Detroit Receiving. Twenty-four years ago last March, Kristine was born with a heart defect requiring her to undergo heart surgery at Children's Hospital when she was seven days old. 

Even though the hospital has been completely remodeled since our one-week stay in 1996, as soon as we walked up and saw their logo on the building, vivid memories immediately returned. I remembered pulling up to the emergency entrance that night and being escorted up to the awaiting and compassionate staff in the Intensive Care Unit. As we waited for the doctors to determine if they were going to perform surgery that night, or wait for a fresh team in the morning, the medical staff allowed Pastor Paul and her Godmother to come into the ICU unit with us and baptize her in her incubator. 
Eventually, the decision was made that Kristine was stable enough to allow the surgical procedure to be scheduled for the morning. Since she was admitted in the neonatal ICU, we could not spend the night in the unit with her, and I sobbed the entire way home as we left without her.
Very early the next morning, surrounded by three of our best friends, Pastor Dennis Heiden arrived just as the staff was prepping her for surgery, and they allowed all of us a moment to pray over her before they took her back to the operating room.
Afterwards, her surgeon invited all of us into his office so he could discuss with us everything that had transpired during her procedure. As we were waiting for his arrival, we couldn't help but notice the beautiful Scripture verses and Christian art that decorated the walls of his office, which just provided such a sense of peace.
The surgeon was an incredibly kind man, and he patiently answered all of our questions. Afterwards, we commented on his decorations. He gave such a beautiful testimony regarding his perception of being a servant of God during his role as a cardiac surgeon. Then, he asked permission to pray a prayer of thanksgiving with us for Kristine's successful surgery. During that prayer, he gave God all of the glory. It was such a beautiful moment to hear my child's surgeon honor and thank God for what had just transpired in his operating room!
Knowing that she will still one day need an additional surgery, I still keep checking to make sure this doctor is still at Children's... and he is! In fact, a few years ago, we were invited to a fundraiser where he was speaking and even had the honor to be seated at his table. He was still as kind and gracious as ever! I had the opportunity to share with his wife about how powerful and impactful it was that he prayed with us. She just smiled and told me that our job is: to just keep shining the Light!
That impromptu visit to Children's really changed my perception that day. It made me realize despite everything that is currently transpiring, I need to daily take inventory of my blessings and stay focused on the joys that each day brings.
God loves each of us dearly. Every day is filled with blessings and gifts. Have fun noticing and focusing on them!
In His Love,
Mrs. Palka