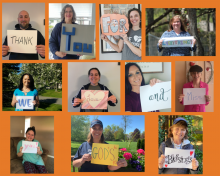 "Every good and perfect gift is from above, coming down from the Father of the Heavenly Lights."  James 1:17
Talk about a memorable school year! In my thirty-four years of working in education, I think this year will go down in the record books for many reasons!
We began this school year with the motto "Let The Whole World See The Greatness Of Our God", and as I reflect upon this school year, I can see so many opportunities that God gave us to show His love to others...
Raising over $2,000 during this year's Progressive Dinner for children to receive clean water through the efforts of World Vision
Continued sponsorship of our Compassion International Child, Virginia 
Grades K - 5 each having International Prayer Partners that visit each other at least four times per year to share cultural and Gospel experiences 
6th - 8th helping the Detroit community as they assisted at Camp Restore
6th grade helping  to repackage food at Forgotten Harvest warehouse
7th - 8th working at Forgotten Harvest Farm by picking over 14,000 lbs of sweet potatoes to help feed those who are in need of food
Let's not forget the miracle that God gave us healing 5th grader, Braedon, and blessing our Turkey Trot to raise over $10,000 for his medical expenses!
4th and 5th grade's "Lunch Bags of Love" project that raised an additional $5,000 for Braedon
145 people attended our traditional Pancakes with Pastors outreach event
Families making 300 meals for the NOAH Project and 8th graders having the ability to serve those meals to the guests of their Detroit warming facility
And then the pandemic hit, and life took a significant change. But in the midst of this challenging period of history, St. Matthew was still able to let the world see God's love through...
Delivering toilet paper vases of flowers to the porches of our Shut-ins
Participating in the "Rise Up and Pray" campaign, which allowed us to pray for 14 local hospitals and their frontline workers and patients
Making over 140 Yard Signs of encouragement and placing them in loved ones' yards
Partnering with Thrivent and our congregation to feed over 875 frontline heroes as a way to express gratitude and Godly encouragement
Writing to our Shut-ins and delivering spring flowers to their porches
And these are just the highlights!  Despite all of the challenges that we are currently facing, every day is filled with a multitude of blessings, and for all of them, we give God the glory!
 
However, we do not want to be naive. We acknowledge significant grieving and adjusting is still occurring. This is not how any of us ever wanted to conclude a school year, and our hearts are breaking in regards to all of the abrupt changes, especially for our 8th graders' conclusion of their final journey at St. Matthew. And yet, we trust God and know that He will get us through this. He promises us in Romans 8:28 where it states "And we know in all things, God will work for good, for those who love Him."  
 
Christain artist, Tauren Wells, is a sixth grade favorite, and his hit song, "Hills and Valleys" brilliantly reminds us that during the mountain top experiences in our lives as well as the low valley experiences, God is always with us and in control. As we await to hear and adhere to future mandates, we find peace in knowing that God will be with us, and we will continue to seek His wisdom and guidance.
 
On behalf of the entire staff, our hearts are overwhelmed by your love and encouragement throughout the entire school year, but especially during these past nine weeks!  We applaud our students for all of their hard work and efforts and look forward to seeing all of you as soon as possible.
 
Blessings on your summer and stay in the "SON"!
 
In His Love,
Mrs. Palka