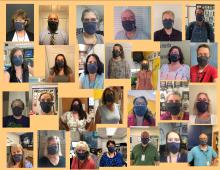 What an exciting week as St. Matthew Lutheran School was able to welcome our students back into the building for the start of a very memorable school year! I think Mr. Czinder summarized it best when he expressed, "After all these months of dealing with COVID, it's like the building came back to life when all the kids arrived on Monday." We want to thank all of our parents for your tremendous support and understanding throughout this endeavor!
Your encouragement is so greatly appreciated as we partner together to create the safest environment possible for our students and staff.
Throughout this summer of preparations, God has been faithful and has constantly shown and reminded all of us that "there are NO impossibles with Him".
 
Looking forward to a wonderful year!
In His Love,
Mrs. Palka and the Staff of St. Matthew Lutheran School