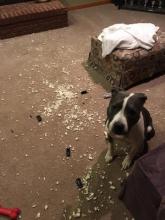 "Let everything that has breath praise the Lord." Psalm 150:1 
Five years ago, I opened a text from my middle son that contained a photo of the cutest puppy and the caption, "Congratulations... you're finally a grandma!" 
Since that date, our Finnegan (aka Finny), has given our family much love and joy. However, despite his enrollment in a very reputable and intensive dog obedience school, Finny did experience the occasional "puppy mishaps".
 
One of my favorite memories occurred when he was approximately six months old. Since he went to school every day from 8:00 a.m. until 4:00 p.m., my husband and I assumed that surely he had progressed far enough where we could leave him unattended on the lower level of the house while my son napped upstairs before his night shift at the hospital while we went out to grab a quick dinner. We thought for sure everything would be fine, just like it had always been while we were home. An hour later, I received this photo:
Accompanying this photo was a text from Finnegan that said "Honest, I was just sleeping on the pillow and then "BOOM" it exploded! You should be very thankful that I am OK!"
 
Finn remained in dog obedience school for 12 full months!
 
A trained dog is an amazing accomplishment! On Sunday, September 27th, your family is invited to attend a very exciting afternoon, filled with "PAWsome" fun, as St. Matthew Lutheran School hosts a very safe and socially distanced "Rock and Roll K-9 BACK TO SCHOOL Family Event".
The "Rock and Roll K-9's" are a group of  talented dogs and trainers from all over the state of Michigan that enjoy performing for family groups of all ages.
 
This year, we have 27 new students and families; we want to provide a safe opportunity for them to meet other families. This outdoor show allows for this to occur!  Every family is asked to bring camp chairs. We will safely socially distance in family pods around the soccer field.
 
Please join us on Sunday, September 27th, at either 2:30 p.m. or 4:30 p.m. for a "howling" good time!  Check the school newsletter for information on how to RSVP!
 
It will be "ruff" if you're not there!
 
In Jesus' Love,
Mrs. Palka