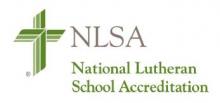 "Whatever you do, work at it with all of your heart as working for the Lord and not for men."  Colossians 3:23
Have you ever entered an event that involved crossing a finish line? If you, so know that great excitement of working diligently at something and finally seeing the finish line, knowing that completion is within reach.
For the past two years, the staff and School Board Ministry of St. Matthew Lutheran School have been working meticulously in regards to completing the "National Lutheran School Accreditation Marathon" to ensure that we meet and/or exceed all necessary NLSA accreditation standards. This week, the finish line was finally in sight, and by God's grace, we were able to make our last lap with our nine-person Validation Team joining us onsite. Yesterday, at 3:45 p.m. we crossed the finish line as we were approved for accreditation status through the Michigan Association of Non-public Schools, as well as the National Lutheran School Accreditation process!
Yesterday afternoon, the Validation Team met with the staff to share with us the following results of their findings. 
Early Childhood Accreditation
This is the first year that Early Childhood Centers/Preschools had their own accreditation process based on their own accreditation standards. In fact, we are the very first school in Michigan to complete this process. Identified Strengths Included:
Ministry to community
Leadership of school and classroom
Curriculum
Security of building
Preschool is scored on percentage based system; our Preschool received a score of 99.4%!
Evidence Based Accreditation
The Kindergarten through eighth grade portion of the National Lutheran School Accreditation process is now designed as an Evidence Based Accreditation process, thus requiring schools to show evidence that they meet all necessary standards. Our results are as follows:
We had 0 deficiencies - meaning that we met and/or exceed all standards!
Identified Strengths included: 

Security of building 
Our upper grade apologetic religion curriculum 
School leadership 
Pastoral leadership 
Our Admissions Counselor 

In addition, we had two "Powerful Practices" identified. A Powerful Practice is knowledge that could be shared among other Lutheran schools so that they can also benefit. Our two Powerful Practices were:

Our Technology Teacher, Mrs. Yvonne Welte, and her expertise as a Google Certified Level 1 Instructor and how she works diligently to constantly to expand our students skill set with current forms of technology. 
Our Apologetics Curriculum, which equips our upper grade students with the necessary tools to defend their faith. 

The meeting concluded with one final and very special award. Each year, one pastor is given the "School Shepherd Award", which recognizes his heart and support for Lutheran Schools. After reviewing all of our documentation, our Validation Team was moved to nominate our Pastor Paul Moldenhauer for consideration of this award, based his leadership, sound policies, forward thinking, and planning (especially during COVID), as well as his heart for Lutheran education and the success of our school.
We are so extremely grateful to our entire staff, School Board Ministry, and Steering Committee who put forth a tremendous amount of time and energy to ensure this accomplishment. Knowing this is truly the Lord's school, we strive to continuously give our best for Him.
We honor and celebrate the Lord for this accomplishment!
In Jesus,
Mrs. Palka