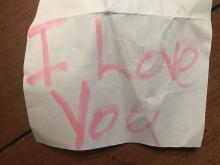 "For to us a child is born,
    to us a Son is given,
    and the government will be on His shoulders.
And He will be called
    Wonderful Counselor, Mighty God,
    Everlasting Father, Prince of Peace."   Isaiah 9:6
What are some of your most precious family Christmas memories?
 
Many years ago, when my daughter was approximately six years old, she was moved to write "I love you" notes and place them in each of her brothers' Christmas stockings that hung from the mantel. One of the brothers has always left that note inside of his stocking, and every year, one or both of them will check to see if it is still there. Eighteen years later, I have to admit that each year that I hang up those same stockings, I also check as well, and smile.
 
Each Christmas celebration has the potential to bring a collection of new wonderful memories as well the ability to reminisce treasured ones as we celebrate Jesus' birth.
 
This year, it is our hope that our school Christmas program will have the potential to create a sweet family memory.   Due to COVID restrictions that prevent us from gathering together, we have designed this year's program to be interactive from your own family kitchen, as each school family will be encouraged to build a birthday cake for Jesus. During this creative culinary experience, we will have the opportunity to watch and listen to the students in preschool through fourth grade profess and remind us of the Biblical truths regarding Jesus' birth.
 Tuesday and Wednesday this week, a professional videographer filmed each of these grades separately and is now working on editing it all together. Once this video is finished, you will receive:
A gift bag that will contain a majority of the ingredients needed to make and decorate your family's birthday cake for Jesus. 
Instructions regarding what needs to be completed before previewing the Christmas program video (such as baking the cakes so that they are ready to decorate when watching the video!).
The code for how to access the video.
Directions for how to submit a photo of your family's beautiful creation!
So get your aprons ready for a new and memorable way to celebrate the birth of our Savior!