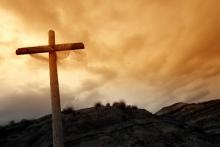 "For God so loved the world that He gave His one and only Son, that whoever believes in Him shall not perish but have eternal life."  John 3:16
Have you ever tried to convince yourself that you were not sick?  Despite your sore throat, runny nose, aching head, have you ever made a deal with yourself that if I'm not better in two days, then I'll go to the doctor?
After playing this game with myself for two weeks, I finally wove the white flag of surrender last Sunday and went to the Urgent Care.  After a few minutes of taking deep breaths and sticking my tongue out, it was determined that I had an upper respiratory infection. A few clicks on the computer sent three prescriptions to CVS and within fifteen minutes, this lengthy two week medical issue was on the path of resolution.