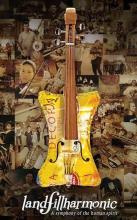 "We love because He first loved us." 1 John 4:19
If there was an instrument that you would love to learn to play, what would it be?
 
During a principals' conference this summer, I had the opportunity to hear an amazing story entitled, Ada's Violin, which is a true account based on a young girl named Ada Gomez. Ada lives in Caturea, a city in Paraguay, that is built on a landfill and is also one of the poorest cities in South America. Yet, Ada's dream was to learn how to play the violin.