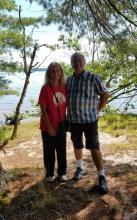 "Every good and perfect gift is from above, coming down from the Father of the Heavenly Lights." - James 1:17
What is some of the most exciting news that you have ever received? For former teacher and recently diagnosed cancer patient, Mr. John Carlton, I can only imagine the joy he experienced learning that his brother was a 100% bone marrow match! As a result, John has the ability to participate in a bone marrow transplant that has the potential to cure his recent leukemia diagnosis. It has been said that the bond of brotherhood runs deep, and for these two brothers, this bond only continues to intensify!
 
Mr. John Carlton served on staff at St. Matthew from 1987 until 1990. His wife, Ruth, also served as a PE teacher for over ten years at St. Matthew, while their four children attended our school for their kindergarten through eighth grade years.
 
Last spring, life changed dramatically for John when he received the diagnosis of leukemia. Beginning in August, John has spent many days as a patient at the University of Michigan Hospital, receiving the bone marrow transplant, chemotherapy, and numerous other medications that assisted in these processes or have assisted in alleviating some of the painful side effects.