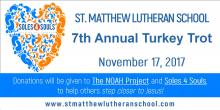 November 17th - Turkey Trot 2017
Help Others Step Closer to Jesus
 
My dad was the youngest of nine children.  After hearing stories of his childhood antics, I am sure his behavior helped my grandparents come to the conclusion that nine was enough and "Billy" was meant to be the grand finale! Often, he would entertain my sisters and me with stories about his childhood.  However, of all of his stories that used to shock and/or amuse us, his story about his new shoes was always the one that we would often beg to
"Tell us again!"