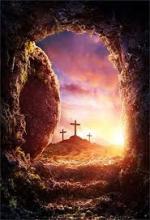 "Why do you look for the living among the dead? He is not here; He is risen!"       Luke 24:5
Family traditions can create very special memories. Perhaps your family has very distinctive ways in which you recognize birthdays, honor special occasions, or celebrate holidays.
 
Our family has numerous traditions, and one Easter tradition that still occurs to this day is that each child looks for his/herbasket before we attend Easter morning church service. Throughout his twenty-three years of existence, our middle child always knows that no matter what state we happened to be in or what relative's home we happen to stay at, somehow, he can always find his basket on top of the car in the garage.
 
However, somehow over the past ten Easters, we have fun reminiscing and laughing about the year that my husband forgot about this particular tradition...