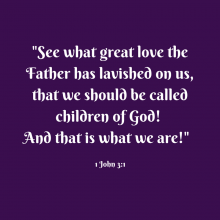 "See what great love the Father has lavished on us, that we should be called children of God!  And that is what we are!"     1 John 3:1
It was one of those phone calls that you dread receiving as a parent. Just the tearful tone of hearing "MOM?" when I answered the phone last week instantly told me there was a problem and her following statement of "I've made a huge mistake and I'm so scared" confirmed my mother's instinct.
 
Through the tears, she told me of her need to take a cab back to her school.