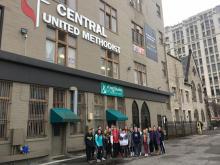 "Whatever you do for the least of these, you've done unto Me." Matthew 25:40
This week, it gives us great joy as we thank and praise God for our school during "National Lutheran Schools Week". However, we intentionally designed the beginning of this celebration by putting the initial focus on Kingdom work.  As a result, 140 children and parents gathered last Sunday to assemble 300 lunches for the NOAH Project, a homeless shelter located in downtown Detroit. The evening was filled with much excitement as passionate disciples gathered together to help those in need.
 
Early Monday morning, the eighth graders had the amazing opportunity to take the lunches to NOAH and assist with their meal preparation and distribution. As their principal, I was so incredibly proud of this group of students as I watched them distribute lunches, serve coffee, and engage in kind conversations.
 
When we returned and debriefed, it was even more powerful to hear their reflections and reactions....