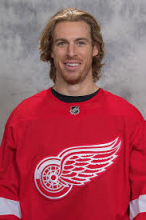 "Whatever you do, work at it with your whole heart as working for the Lord and not for men."  Colossians 3:23
Many young boys have dreams of playing for their hometown team in the National Hockey League.  Well, for David Booth, grandson of one of our St. Matthew congregational members, Mr. John Booth, after a journey of hard work, perseverance, and waiting, the Lord blessed this dream and made it a reality this year!
 
Growing up, David attended Peace Shelby Twp. Lutheran School from Kindergarten through Grade 8 and started playing hockey at a young age.  After four successful seasons at Michigan State, the Lord continued to open numerous doors for David in the NHL and Russia Hockey League. Yet in one interview, David confessed that ever since he was able to lace up his skates, his dream was to play for the Detroit Red Wings.