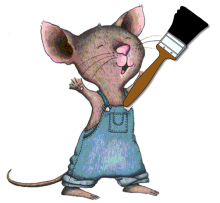 "Therefore, if anyone is in Christ, he is a new creation. The old has gone and the new has come."     2 Corinthians 5:17
It started out so simple... Ken's brother, who is a painter, shared with us last week that he had some open days... so let's repaint one of the kids' bedrooms?
 
Have you ever had a project that started out small but in the blink of an eye evolved into a huge "Extreme Home Make-Over" endeavor?
 
As soon as I started clearing out the childhood lime green bedroom that was destined to be repainted, it was as if...