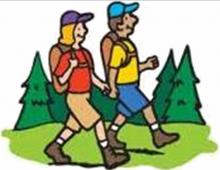 "He who watches over you will neither slumber nor sleep." Psalm 121:4
Have you ever experienced a situation that sounded like a great idea in the beginning, but midway through... you start to question your judgment?
 
Visiting Alaska has always been a dream, and at the end of this June, Ken and I are extremely blessed that the Lord is opening this door and enabling us to go. However, one major part of the itinerary for this trip is numerous days of hiking.
 
Last Monday, Ken in his wisdom announced his grand idea! He felt that we really need to get our new hiking boots broken in... so what better way than to walk the 8 mile path around Kensington Park!
 
If you recall, Monday was a magnificent day! The sun was shining and the temperature was absolutely perfect for walking. However, the only uncooperative factor was the brand new boots!
 
For the first two miles, everything was great! My legs were noticing the hills but nothing that caused a problem. However, somewhere along mile four, things began to dramatically change...