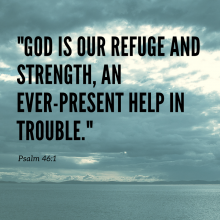 "God is our refuge and strength, an ever-present help in trouble." Psalm 46:1
Once, I was walking behind a group of Kindergarteners as they were passing by one of the fire alarms located in the 200 wing when I overheard one little boy say to another, "No one is allowed to pull that handle!" Immediately, the other little boy quickly rebutted, "No one except Mrs. Palka!" As I heard this, I just smiled hearing this was one of my claims to fame as the principal.  However, the truth of the matter is that every time that we rehearse this drill throughout the seven annually scheduled practice sessions, pulling the alarm is actually one of my jobs!
 
So imagine my shock a few years ago when I was in a meeting with another staff member inside my office and the fire alarm went off!