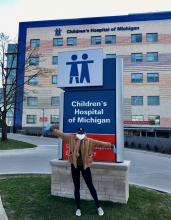 "Every good and perfect gift is from above, coming down from the Father of the heavenly lights."  James 1:17
So what has been your largest adjustment living in isolation? Perhaps it's the inability to hang out with friends? Maybe it's the restrictions of leaving your home? Possibly you are feeling like you have cooked dinner 395 times since March 13th?
After living in New York for the past six years, our 24-year old daughter is currently home to escape living in her apartment, which is located the epicenter of this pandemic. As a result, she is now facing MANY adjustments. As much as I would like to think that I'm a barrel of laughs to be with 24/7, her rather busy and hectic life has come to a screeching halt now that she is unemployed and temporarily residing in Walled Lake. So she started thinking and praying for how God could use her during this season of her life, and something really fun has evolved. One of her numerous jobs is that she is a certified yoga instructor, so she started teaching classes online and designating all donations to purchase meals for exhausted medical staffs at various Detroit hospitals...