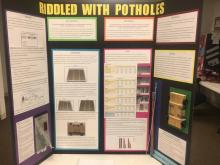 "Every good and perfect gift is from above, coming down from the Father of the Heavenly lights."   James 1:19
The other day, I overheard the comment, "Who needs Cedar Point when we have the thrill of dodging and driving over Michigan potholes?"   Sad thing... there is so much truth in this statement!
With the frequent seasonal freeze-thaw cycles we have experienced this winter, dodging potholes has become Michigan's newest sport!