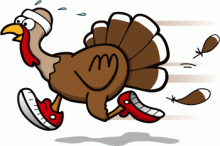 "Give thanks in all circumstances." 1 Thessalonians 5:18
There is nothing more delectable than the smell of the house when Thanksgiving dinner is being prepared. At times, it is as if you can close your eyes and envision the delicious delicacies that are roasting in the oven. However, I do recall one particular Thanksgiving at my mother's house when this was not the case. As we walked through the door, we were greeted by a very peculiar aroma. I traced its apparent path of origin; it seemed to be emerging from my mother's oven.
 
Wondering if she was attempting a new recipe, and not wanting to offend the host who was willing to cook for everyone, I opted not to question her culinary skills.
 
However, there is nothing like the transparency of an articulate four year-old to identify the elephant in the room and so eloquently inquire loud enough for everyone to hear, "What stinks so bad?"...