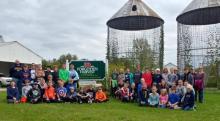 "Whatever you do for the least of these, you've done unto Me."  Matthew 25:40
Are you the type of family that enjoys gardening? One frequent comment that I hear from those who have been blessed with green thumbs is that is was a very bountiful summer for zucchinis and tomatoes, making it nearly impossible to gather all of the crops!
However... can you imagine the overwhelming task to harvest 43 acres of produce for needy families? Sounds like a great time to have a "small dream and watch God bless in BIG ways"!